The next two weekends are so important and amazing to members of The Church of Jesus Christ of Latter-day Saints. This weekend is Easter and we celebrate with all Christendom. The first weekend in April is when all members of the LDS Church, come together for a General Conference. There are 8 hours of uplifting and inspirational speakers from our Church leadership, including remarks from Apostles and Prophets today. Everyone, member and those of other faiths, are invited to tune in to all or part of these proceedings at
www.lds.org
As much as we look forward and love these worldwide meetings, sometimes they can get a little long, especially for kids. Did you know that LDS Shout Out can help you pay attention and learn? During a talk, take one card from the pile. Each card has 6 images. If the speaker talks about one of the objects, take another card. The person who collects the most cards WINS. See who can find the most matches during one talk, one session or all of conference. (Of course, everyone is a winner who listens and applies the teachings they hear!!)
Grab a LDS Shout Game, print it out, cut it and you're ready to play.
Use FamilyNight1 for $1 off $5.
LDS Shout Out
Other LDS themed Games
Rise and Shout Shop
- 30+ games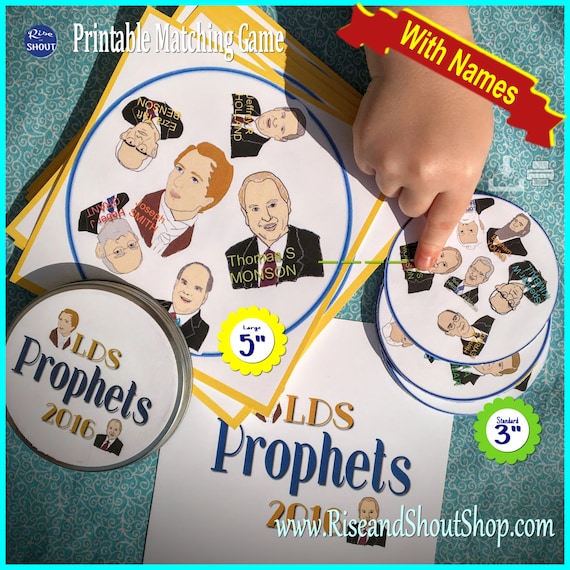 UPDATE: I now have a Prophet and Apostles Shout Out Game. Each prophet's name is written on their picture. Learn to recognize the face of each of the presidents of the Church from Joseph Smith to Thomas S Monson, plus all of the current apostles of the Church. Recognizing the speakers, or being able to put a face to a name when past presidents are quoted, helps make Conference more interesting.
Buy LDS Prophets Shout Out here:
https://www.etsy.com/listing/278790914
(Please pin to your General Conference, LDS, FHE, Sabbath Day, Primary, YW, YM or Sunday School boards)
For a FREEBIE General Conference Invitation April 2017, click
here
To celebrate the
Prince of Peace
this Easter and the mormon.org initiative, download a free lesson/activity and game:
http://www.riseandshoutshop.com/2017/03/prince-of-peace-peace-at-home.html
Melanie
Don't miss new products, sales and more.